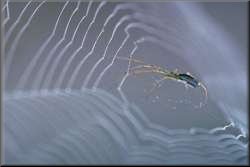 Web-Strider Enterprises
Providing Web design, development, and maintenance for businesses, organizations, and individuals on both new and existing sites
So you want to be on the Web
Everyone else these days seems to be on the World Wide Web, and now it's time you were. You have a product or service you want to showcase. Or perhaps your organization wants to reach more people. You have a cause close to your heart that you want to share your wisdom about. Or you have a site that needs some attention to be more effective.
Why Web-Strider?
Web-Strider Enterprises specializes in Web design, development, and maintenance. Our clients range from small businesses to community organizations to individuals. We provide customized solutions for your Web needs. Whether you have an existing site that needs "re-tooling" or you need a site developed entirely from scratch, Web-Strider can help. We will work closely with you to design the best site that meets your needs and those of your clients and users.
© Copyright Web-Strider Enterprises. All rights reserved.