2276 SE 41st • Portland, OR 97214 • Phone: (503) 916-6220 • Fax: (503) 916-2665 • Sitemap
Richmond Arts
The final pieces
Check out the pictures from the completion of our Mosaic Art project under the guidance of Artist-In-Residence Lynn Takata.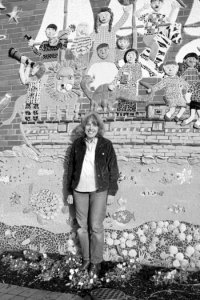 Takata-sensei, Richmond's spring 2008 artist-in-residence
Lynn Takata, a reknowned Portland ceramic artist, worked on a large mosaic mural that will involve every Richmond student at every grade level, PreK-5. Her introduction to mosaic art included a formal presentation by Takata-sensei to show students a variety of examples of mosaic art that she has created with students in schools across the Portland metro-area.
Richmond's mural was completed in two parts and is located along the west wall of the cafeteria building, facing SE 41st street. Part one was completed during the spring of 2008 and part two was completed by students in fall 2008. Many thanks to Fujiwara-sensei, our cultural arts specialist, for her help coordinating all aspects of this residency!
Takata-sensei joined two other artists-in residence at Richmond this school year. The first was a theatrical group, Play-by- Play and the second was the eight-week taiko residency. Funding for all artists-in-residence would not be possible without the dedication of our PTA and their successful Spring for the Arts.
Mosaic Art project installation
Check out the pictures from the first week of our Mosaic Art project under the guidance of Artist-In-Residence Lynn Takata.
Spring for the Arts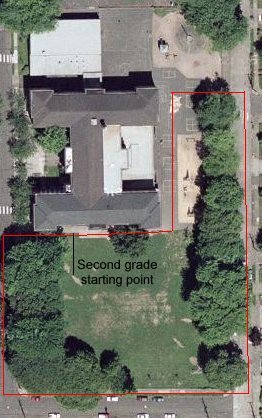 Each year, schools around the Portland area participate in their own Run for the Arts event, which raises money for art residencies and assemblies from the Young Audiences program. This has been particularly beneficial for schools like Richmond with no full-time art or music staff--the teachers do what they can in the context of their own instruction, but the majority of arts instruction in recent years has been supplied by the funds raised in this event. Each student solicits sponsors and completes as many laps as he or she can in the time allotted, and the money collected is used for everything from assemblies by Portland Taiko and Captain Bogg and Salty to storytellers to resident artists who give lessons in wire art, cartooning, and murals.
In 2007, the PTA decided to sponsor its own version of the event, "Spring for the Arts." This was done because Young Audiences normally takes 15% of the funds raised at each school's event, and the school desired to retain more of its funding. Money raised provides many wonderful art activities to Richmond during the school year. These include:
Weekly calligraphy class all year around
3 art residencies

Play to Play (performing art) for PreK to 2nd (February)
Taiko drumming for 3rd to 5th (March)
Mosaic art for PreK to 5th (April~May)
Our goals for the art education of 2008~2009 are
to continue to have our calligraphy class
to have long term Taiko residency for PreK to 5th
to explore different kinds of art residencies
2008 pictures courtesy Mike Kaplan (Mari's Ojiisan)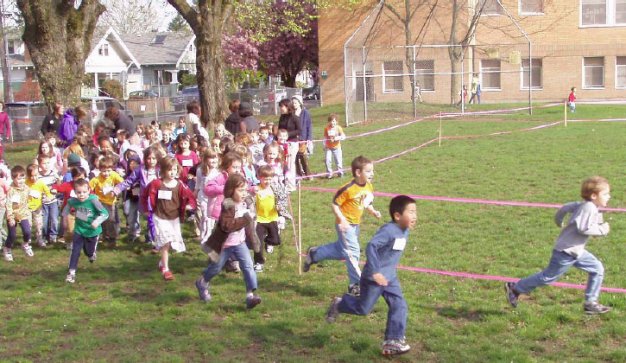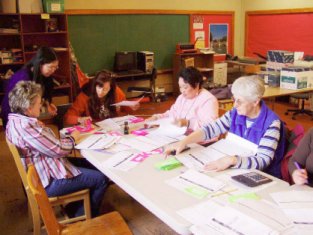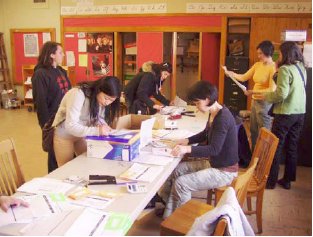 The 2007 event was held on April 20, and there was a lot of fun for all involved. Grades PreK - 2 ran at 10:00 am, and grades 3 - 5 ran at 1:00 pm. Each student got sponsors, and parents were encouraged to seek sponsorship and run/walk with their children. Even the teachers and Japanese interns got in on the act and ran with their students as many laps as they could around the school (the route is shown in red at the right). The tired runners were rewarded with yummy popsicles donated by the Grandparents' Brigade of the PTA.
Thank you to all the students, parents, grandparents, and staff members who made the run so successful. There were over 210 pledge sheets turned in and over 220 runners! There was a fabulous team of volunteers who helped us get the sponsor sheets tallied, copied, and returned to the teachers within the same day. This is a record! Many hands made light work so many thanks to all! A special thanks goes out to the Grandparents' Brigade for their generous donation of Popsicles!
Spring for the Arts 2007 raised $12,000! Way to go, runners!

| | |
| --- | --- |
| PE teacher Gary "King" Kuney explains the rules | "Are you guys gonna have fun?" |
| Teachers Eriko Mogi and Jan Naylor prepare for the event | And they're off! |
| Look at them go! | Teacher Amy Grover lends a couple of hands |
| Principal Kathryn Anderson runs with the pack | "So who's got the popsicles?" |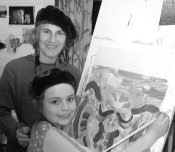 Muralist works with Richmond students
Carol Basch, a Portland artist who loves to work with schools to beautify their buildings, came to Richmond on February 27, 2006 to work on a mural with students in grades 3 - 5. Our students created the design and did all the painting of the mural under Carol's guidance. The mural is in the 2nd floor stairwell; the location and the theme for the design was finalized by staff and students.
Art residencies and assemblies
Every year, Richmond families contribute generously to our Run for the Arts program to enable our staff to arrange professional art experiences within the school day for all students. Thank you for making it possible for us to offer professional art instruction throughout our school program.